The cost of your treatment will vary, depending on your individual needs and treatment plan. We will discuss the cost of your treatment and each of your available payment options with you before you begin, so you can make the best choice for yourself.
Affordable Payment Plans via CareCredit
Your smile is yours forever, and we want to make it as easy as possible for you to receive the best dental care when you need it.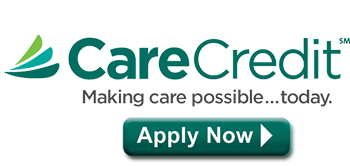 Our practice accepts cash, check and most major credit cards.
Our office staff is always available to help you with insurance claims and paperwork. We'll help you to utilize your insurance benefits effectively and make sure your treatment plan meets your needs and your budget.
Please let us know if you have any questions about your insurance coverage.
Dental Membership Club
For our patients who lack insurance coverage, we've launched our In-Office Membership Club to simplify payments for preventive care. Members of our loyalty program also save money on treatments.
Our plans cover two professional dental cleanings and doctor exams per year, as well as X-rays and fluoride treatments. Members also enjoy a 15% savings on all other dental services.
Adult plans start at just $32 per month!